Seoid�n's profile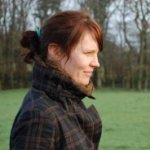 Name: Seoidín O`Sullivan
Region: Dublin
Member since:2009-03-16
Last online:2010-03-11
Background
I grew up in Kitwe Zambia and later lived in Durban South Africa where I completed a Fine Art degree in 2000. I have been living in Ireland since then and have a MA in Fine Art Media from NCAD and a Post Graduate Diploma in third level teaching and learning.
I have been teaching art to Traveller women in St Margarets in Ballymun and with BTAP in Ballyfermot over the last two years aided by 'The Nomadic Mapping Project'. I have enjoyed this work and have a gained a strong and critical awareness of Traveller culture, the issues experienced and faced by this community, and the skills, interests and abilities amongst Traveller women.
I also have become aware of the difficulties and discrimination faced by Travellers on a daily basis. Witnessing the resilience and resourcefulness of the women has been inspiring. Visual Art has been a very effective educational tool for the women who are largely illiterate to gain confidence, enabling free expression and positive spaces for conversing. A need I have noticed lacking on the halting sites is positive creative spaces for mothers and children to come together and be creative. Through the Trespass law Traveller family have been penned into hating sites on a permanent basis with little access to facilities most of us take for granted.

I am also experienced in teaching art to children having worked with children in a variety of contexts. I have taught art to children in schools in Kerry and Dublin, in hospital schools where children had special needs and disability, and with children from disadvantaged backgrounds in South Africa.
Professional Statement
I am an artist and educator. My art practice investigates socio-political and ecological narratives, which I re-present in critically engaged and poetic ways through a variety of media. I am interested in critical forms of pedagogy and my practice explores land use and land issues with an ecological lens. I studied a BA in Fine Art in Durban South Africa and a Masters in Media at NCAD, Dublin, Ireland. I have Higher Diploma's in both International Development Studies and in Third Level Teaching and Learning.
Seoidín's art practice in recent years has created collective pedagogical spaces where participants can exchange ideas and learning. The community garden project, Dolphins Barn was a shared non hierarchical learning space on food growing. TACTIC provided a set of workshops from The LAB that brought together artists and activists.
Current projects include; The Producers (Studio 468), The Nomadic Mapping Project with Traveller women, Field- Work with The Dublin Naturalist Field Club commissioned by The Red Stables, St Annes Park and TACTIC a collaborative project with Ralph Borland that is a cross national laboratory for artistic intervention where artists and activists from Ireland and South Africa can share their practices. Her practice both collaborative and individual has received numerous awards and she has been exhibited widely.
Media and techniques
Primary medium: Mixed Media
Secondary medium: Youth
Creative Context
Primary context: Early Years
Secondary context: Community