Sarah OB's profile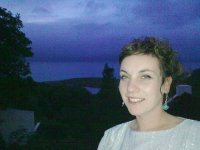 Name: Sarah H. O`Brien
Organisation:
Teachers Union of Ireland.
Website: http://sarahobrien.ie/
Member since:2009-08-19
Last online:2009-08-19
Background
Originally from Kinsale, Co. Cork. Masters Graduate of NCAD, Painting 2007. Sarah completed a PgDip in Third Level Learning and Teaching at DIT, Mount Street (2012). Sarah has contributed to the education team at Dublin City Gallery, The Hugh Lane Gallery, Lewis Glucksman Gallery, Cork and West Cork Arts Centre, Skibbereen, Co.Cork. She is a studio tutor at University College Dublin School of Landscape Architecture. In 2012 Sarah was awarded the Arts Council of Ireland Young People, Children and Education Bursary.
Professional Organisation
Teachers Union of Ireland.
.
Professional Statement
In my visual art practice I contemplate language and communication. Working with groups from primary schools to community groups and from universities to hospitals I seek to engage in a dialogue which is mutually beneficial.