Marie Brett's profile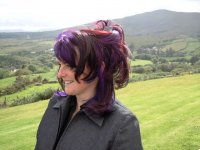 Background
Marie Brett is a freelance visual artist with extensive experience in devising, managing and delivering arts and education projects included training and mentoring.
Organisations and programmes Marie's worked with include Roscommon Art@work, DLR Creative Classrooms, The Heritage Council, CCoI and Cork County Council.
Marie devised and co-led the 'Fun with Glass' arts and education programme, a partnership with West Cork Education Centre and Cork County arts office. The programme delivered a suit of residencies in national schools spanning seven years and included teacher training plus artist mentoring with West Cork Arts Centre.
Marie has led numerous creative residencies with children and young people, often being multi-partnered and cross-generational, such as the Cork Capital of Culture 'Cobh Regeneration' project, which was a collaboration between the artist, a national school and HSE daycare centre participants, creatively exploring the town's legacy and impact for future generations. Also the '4 Leaf Clover' project, which was a collaboration between children from an after-school club, a community development group and the artist, which spanned three generations and creatively explored the topic of significant family events. The art project 'Vacant Spaces' on Bere Island, has involved oral history activities with island children, leading to inter-generational community workshops as part of a large project exploring ideas of re-imagining the island.
She has also devised school based residencies as part of public art commissions, such as with Limerick County arts and housing offices and a Newcastlewest national school, interpreting and responding to a newly commissioned sculptural installation in a nearby housing estate.
Recent awards for her work include an artist bursary plus a participatory project award from the Arts Council, AIC awards from Create, residency awards plus an artist bursary from Cork County Council, plus In Context award from Cork City Council.
Marie is a Heritage Council Heritage in School's scheme panel member, specialising in bronze age gold, plus has led professional development training for Visual Artists Ireland, plus CCoI. She has been an artist mentor with Create as part of the AIC scheme, plus Create/Common Ground as part of the Connect mentoring programme, the CCoI as part of their professional development scheme, Sirius Arts Centre and West Cork Arts Centre as part of their arts and education programmes, plus Laois County Arts Office, Greencrafts and Electric Picnic as a new pilot project initiative. Marie is a visiting lecturer to colleges and has presented at several conferences and symposia nationally and internationally.
Qualifications include an MA plus BA from Goldsmiths College, London University, plus training in community development and group facilitation, received from UCC and Cork Institute of Technology, plus a post grad cert of education from Middlesex University.
Professional Statement
Marie Brett is a visual artist making sculptural installations including photography, sound and video.
Her practice centres on the universal subject of loss and in particular an interest in ambigous loss theory and ideas of the ephemeral and the hidden.
Her practice is collaboration based and this has led Marie to develop new modes of participation with individuals and groups of people, who inform and influence the production of new work. Through her work she seeks to reposition the accepted or unquestioned.