Michael Ray's profile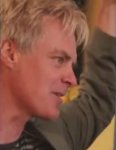 Background
I have worked for over thirty years as a visual artist and teacher, more recently working as an art psychotherapist and arts facilitator. I have experience working with pre-school through to palliative/ hospice work both therapeutically and as artist in residence. I have run projects via NDTI, PDST and the Crafts Council of Ireland. I work in Clay, Glass and the written word. My work is exhibited internationally and is in the collection of the Department of Foreign Affairs and the National Museum of Ireland.
Professional Statement
My creative interests lie at present in our relationship with the invisible, our interdependence with the microscopic world and also in the emotional realm that ties us together as social beings.I'm particularly interested in collaboration between the ancient oral tradition of storytelling and the symbolic interpretation of metaphor through the medium of glass.
Media and techniques
Primary medium: Sculpture
Secondary medium: Creative Writing
Creative Context
Primary context: All contexts
Secondary context: All contexts