Fintan McKahey's profile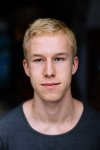 Name: Fintan McKahey
Organisation:
IMRO
Clonakilty Community Arts Centre
Region: Cork
Website: http://fintanmckahey.com
Member since:10-09-2016
Background
I am a multi disciplinary artist working in music, film, theatre & visual arts.
In 2016, I launched my debut EP 'Two Lifetimes Late' and toured Ireland. Songs can be streamed from my website. I also play bass with The Nash Brothers band. 2018 will see the release of my debut album.
in collaboration with visual artist & photographer, Kate Bean, we produced a short experimental film 'Purpurea' This was screened at West Cork Creates 2016 and was part of A Taste of West Cork Festival in Skibbereen, West Cork.
With support from CorkETB, I co-facilitated a series of workshops in radio documentary production for Clonakilty irish Wheelchair Association. These programmes will be aired on http://clonlineradio.com in 2017, a community radio station.
I provided composition and sound design for 'Drama Club at Uillinn' a short film for West Cork Arts Centre, which documents the activities enjoyed by the children there. This can be viewed on their YouTube channel. Previously, I have delivered drama workshops for children at The Clonakilty Community Arts Centre.
In 2017 I was commissioned to compose and play a new work for an intergenerational, site-responsive performance art project. 'Point of Departure: a Lament' was shown at Reen Farm Sculpture Garden as part of the Skibbereen Arts Festival and a short film, documenting the performance, will screen at several festivals in 2018.
Fetac 5 Art, Craft & Design: Rossa College, Skibbereen. Fetac 5 in Theatre Performance & Production. Fetac 6 in Advanced Classical Acting: Kinsale College of Further Education. I continue to work as an actor and voice over artist.
Fd.BA in Music Production at BIMM London.
Professional Organisation
IMRO
Clonakilty Community Arts Centre
.
Professional Statement
I grew up in a family of creatives and benefited from being allowed to explore different modes of self - expression. I would have a great respect for The Arts, which I believe are currently poorly represented in mainstream education.
Media and techniques
Primary medium: Drama
Secondary medium: Music
Creative Context
Primary context: Community
Secondary context: Youth