Marie Brett's profile
Flags of Intention. Kilkenny Arts Festival

Duration: 2011-08-09 to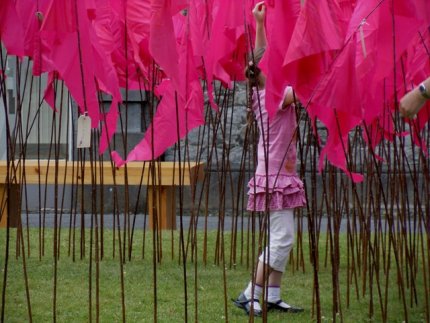 Project Outline
Flags of Intention : Marie Brett

'I want there to be no more shouting in our house'
'I wish Evan would like me'
'I hope when I grow up I'll have a lovely bedroom'
'I wish that Mammys new job goes well'
'I hope I do a good job on the upcoming soccer season'

These are some of the written intentions accompanied by drawings by participants as part of the art installation: 'Flags of Intention' at Castle Yard as part of Kilkenny Arts Festival.

This is an on-going collaboration between Nic Piper & myself (Marie Brett) exploring the notion of the liminal through gift exchange within publicly engaged work.

Participants are invited to participate by drawing or writing a personal intention and offering it anonymously to a collective expression. Kids and adults take part often anonymously revealing intimate and personal hopes.

At one event …
"A group of two children and a man came forward and quietly wrote their intention onto a flag; when it was time to choose where to plant it, they selected a spot far away from all the other flags under a cherry blossom tree. Their engagement was quiet and thoughtful in amongst all the hustle and bustle around them. Once the flag was planted, the little girl ran over to me and said, "That's for my little brother, we're remembering him, he died, he was 14 months old … we miss him so we thought we'd do a flag for him"

Dr. Ronan Foley in writing about the work said the intentions 'were a fabulous variety of desires, longings and hopes yet also said something about the respondents themselves and indeed the time/place into which they were expressed. While younger writers seemed to have a great passion for dogs and family holidays, the sense of other more fractured lives also emerged from both child and adult 'wishers'. Some of these spoke of very real and immediate needs and indeed for some sort of certainty and closure related to a range of life events while others were more aspirational for a longer-term future. Yet all felt as if they came from the heart and were a set of affective markers, unashamedly expressed within a public space and setting. Other visitors read and were touched, amused or felt moved to comment on what others had written.'

See Flags of Intention: Mapping Future Traces
http://nuimgeography.wordpress.com/2011/04/05/flags-of-intention-mapping-future-traces/

Nic and I are grateful to The Crafts Council of Ireland for supporting the work as part of Kilkenny Arts Festival 2011.


Project Posts