Annabel Konig's profile
National Drawing Day 2018

Location: Butler Castle grounds - Co. Kilkenny

Duration: 2018-05-19 to 2018-05-19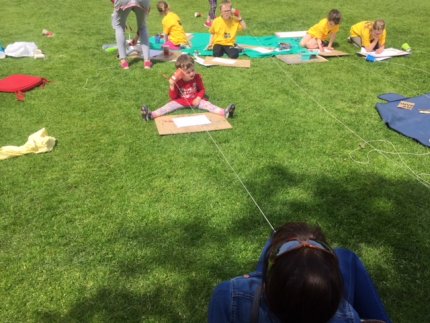 Project Outline
Under the umbrella of the Butler Gallery, I ran a project for National Drawing Day 2018.
As requested by the gallery, I linked my idea to the gallery's current exhibition, 'The Breadwinner'.  My idea was for one person to describe a scene, tell a story or relate an idea and to have their drawing partner, draw what they heard.  An act of telling and listening.
Using the childhood idea of a tin can and a piece of string, partners in this drawing excersize sat oppsite each other.  We used paper cups in sted of tin cans for saftety reasons.  One person spoke into the cup and the other listened by holding their cup to their ear.  The string between the partners was held taut so that the words could travel.  The listner then drew what they heard.
This project was accessable to all ages and it was great to see parents both telling and listining to the words their children had to offer. 
Project Details
Location: Butler Castle grounds
From date: 2018-05-19
To date: 2018-05-19
Length: one day
Participants in total: 60
Contact hours: 4
Age range of participants:
3-5, 5-7, 8-11, 12-14, 15-18
County(ies):
Kilkenny
Related Organisation(s):
Butler Gallery
Funding Bodies:
Butler Gallery
Related Artists:
Practice.ie Team
Project Posts