Practice.ie Team's profile
Mobile Art School 2012

Location: St. Catherine's National School, Rush, Co. Dublin - Co. Dublin

Duration: 2012-04-01 to 2012-06-16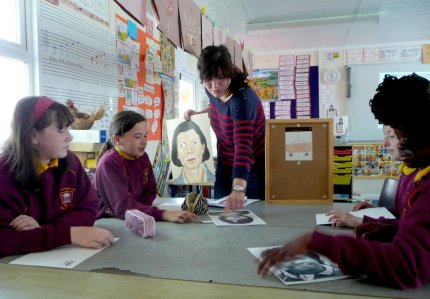 Project Outline
Mobile Art School is a project conceived by Jennie Guy and Cleo Fagan. It is aimed at exposing and connecting young audiences to the richness of contemporary art. Set within a primary school context it involves a series of two-hour sessions, each comprised of an artist-led presentation followed by a hands-on workshop. These sessions focus on various aspects of contemporary art practice including: Drawing, Sound, Photography, Moving Image, Painting, Found object, Participatory, Performance, Sculpture and Art Writing. The vision of Mobile Art School is to provide a window where both artists and children can experience an energetic and clearly defined context for learning and exchange.
From the outset, the Mobile Art School project was based on a consideration of three participating groups: the artists, the students, and the participating school(s). We aim to provide the artists with a simple means of interfacing with younger audiences in a supportive learning environment. In turn the project provides students with the unique experience of engaging with contemporary art with the guidance of a diverse range of successful career artists. Finally, participating schools can extend their current curricula by introducing their students to new learning opportunities that will contribute to the students' ability to work together and approach new subjects.
The current pilot programme is a partnership between St. Catherine's Primary School, Rush, Co. Dublin and independent curators Jennie Guy and Cleo Fagan. The project works with one 5th class at the school. Key personnel involved in the project are school principal Ger O'Sé and class teacher Lorraine O'Neill. The first workshop began in April and the last one was in June 2012.
The following artists participated in Mobile Art School 2012:
Isabel Nolan (Sculpture)
Vera Klute (Drawing)
Mark Garry, (Found Object)
Emma Haugh (Photography)
Michelle Browne (Performance & Participatory)
Ruth Lyons (Moving Image)
Tamarin Norwood (Art-writing)
Sven Anderson (Sound)
Felicity Clear (Drawing)
One of our curatorial aims for the project is to give children the opportunity to work with artists in a diverse range of artforms, allowing the sessions to be artist-led and encouraging the artist to share with the children aspects of their own research interests within their practice as an artist.
A short background to the Mobile Art School: In 2011 we attended a day in The Project Arts Centre organised by The Visual Artists Workers Forum called Work It. This event advocated a DIY ethos and emphasized a forward-thinking attitude to pedagogy that we identified with as independent curators. During the same time phase Cleo had the opportunity to meet Ger O'Sé, principal of St. Catherine's National School. Having established contact with Ger O'Sé and noting his enthusiastic & dynamic approach to education we decided to draw up a structured proposal detailing our curatorial objective to create an opportunity for contemporary artists with active, successful practices to jump into an environment in which they could share their experience and excitement about their own and other artists' work with a group of children. Artists were selected on the basis of their art practice rather than extensive experience with working with children.
Due to the generous support of the Arts Council we have just completed the workshops and have a considerable amount of documentation which we are beginning to review and edit for our website. We are now at the point of evaluation and we are considering future possibilities.
We are aware that this project has hit on a simple yet effective way of developing a distinct awareness of contemporary art at student level. Our current plan is to continue working with St. Catherine's National School and link with other schools. If you think your school might be interested in partnering with the Mobile Art School please contact us. (See contact details below)
Some of our current research interests and inspirations...
French philosopher Jacques Ranciere's The Ignorant Schoolmaster, 5 lessons in Intellectual Emanicipation
For more information and media content related to the Mobile Art School project, please visit: http://www.mobileartschool.org/
Project Details
Location: St. Catherine's National School, Rush, Co. Dublin
From date: 2012-04-01
To date: 2012-06-16
Age range of participants:
8-11
County(ies):
Dublin
Related Organisation(s):
Mobile Art School
Funding Bodies:
The Arts Council of Ireland, St. Catherine's National School, Rush
Other Related Artists:
Sven Anderson, Michelle Browne, Felicity Clear, Mark Garry, Emma Haugh, Vera Klute, Ruth Lyons, Isabel Nolan, Tamarin Norwood
Project Posts