Orla Kelly's profile
Guest Editor; Focus on Early Years

Created 2013-01-08 by Orla Kelly

Duration: 2013-01-08 to 2013-02-28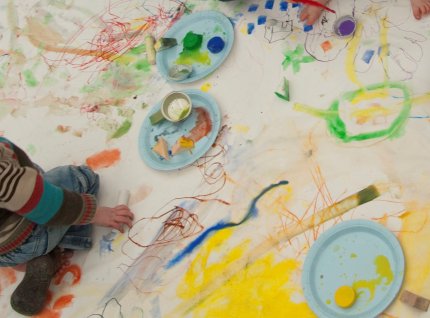 Project Outline
This first editorship of 2013 kicks off Practice.ie focus on early years arts and marks Early Childhood Creativity's embarking on a very exciting adventure of its first year trading as a limited company. Early Childhood Creativity's plans for the year involve investigating creativity in early childhood, developing educational programmes, inventing anew, reinventing, dreaming, collaborating and speaking to as many people as possible about what is important, useful and needed for early childhood creative engagements in Ireland so we may act in the most valuable and exciting way.
In ways this guest editorship is acting as a delightful excuse to speak with some wonderful individuals and organisations who are engaged with arts and early childhood to gain experiences and insights that will be helpful to Early Childhood Creativity over the year and hopefully it will be of great value to all practitioners who have time to come along for the ride too.
Although it may be seen by many that it is a relatively new practice, early years art activities have been formally developing in Ireland for close to 30 years (please correct me if you have been working in this area for longer). It also seems apparent to me that many artists with child centred creative facilitation practices, parallel to their own arts practice, have been keen to enter the space of early years arts but unsure of the steps to take. (Early Childhood Creativity is at present designing a programme that will roll out in March to cater for some of those eager to learn the practicalities in a supportive and real environment but until then I hope this space will prove valuable.)
Perhaps it is apt at this time, when there is huge focus on redesigning formal educational practices, that we begin to consider the value of using creativity in education. For most of us as artists who are involved in creative teaching and facilitation we never had any doubt about the value of creativity for understanding, skill and confidence building, the value of understanding the abstract, and the huge value of the creative intellect for almost every situation in life. Maybe it has taken time for arts education to filter through the generations and for the creative needs of our 'knowledge society' to require new creative underpinnings, but it is clear that we are entering a phase where formal education has new needs and purposes which have led many non artists to be critical of regular education and question if elements of creativity need to be considered if our education from our early years to our late teens is to be seen as fit for purpose. In ways this is an opportunistic time for those working in this space to show the wonderful work that we have been doing and for those interested in getting involved in this space to declare their needs.
Throughout the guest editorship I would like to have open conversations on some interesting subjects such as; What is creativity and arts for early years? How do we as adults, artists and educators creatively educate with confidence and direction? How do we as artists learn from early childhood educators and how do they learn from artists?/ How do artists and educators cross pollinate knowledge and experience?
I would hope that my time in this virtual space would be more than one way communication and would really like to get a conversation going so we can share practice and inspire each other. So I would really encourage feedback and dialogue, don't be shy. We can do this on here on Practice.ie or on Facebook (Practice.ie/ early years arts Ireland / early childhood creativity).
Other topics that I hope to investigate/discuss are; What work exists that is inspirational for early years arts practicitioners? What is the Reggio Emilia's method's of creative education and how is the art of the atelierista at the heart of learning in Reggio Emilia? Is this model of value in Ireland? I have lined up some early childhood academics, educators and practitioners of creativity, play therapists and artists whose work with early years has been inspirational and developmental and some young inquisitive innovators to ask; What are the most important bits of knowledge for working with early years? What are the most valuable experiences working with early years? What exists that is most useful? What is least useful in considering early years arts? What should we consider when we consider arts and education policy in this area? What is most needed in the current setup and how can we (artists and educators) most profitably cross pollinate our skills and experiences? Considering the audiences in early years arts; adults and children as two audiences in one.
So there is a huge amount to discuss, away we go!
Project Details
From date: 2013-01-08
To date: 2013-02-28
Length: 2 months
Age range of participants:
Infants and parents 0-3, 3-5, 5-7
County(ies):
Dublin
Project Posts
This first editorship of 2013 kicks off Practice.ie focus...

In November 2012, a number of practitioners involved with early...