Liz Smith's profile
Zoetrope Workshop; If I Had An Artist For A Day with Kildare CoCo

Created 2013-12-18 by Liz Smith

Location: Scoil Mhicil, Athy - Co. Kildare

Duration: 2013-12-18 to 2013-12-18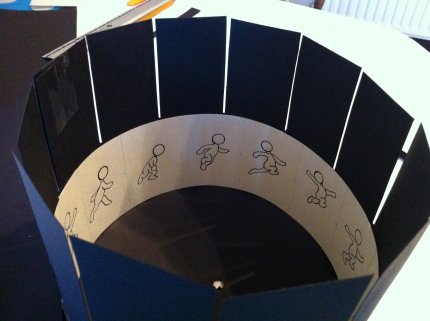 Project Outline
On Wednesday December 18th 2013, I was invited to Scoil Mhicil N.S. in Athy to deliver my Zoetrope workshop to 6th class students. This workshop is part of the Kildare County Council's If I Had An Artist For A Day project, which as the title suggests, invites Kildare Primary schools to collaborate with an artist for a day. A zoetrope is a 19th-century optical toy consisting of a cylinder with a series of drawings on the inside that, when viewed through slits with the cylinder rotating, animates the drawings.
I was so excited to have the opportunity to deliver this workshop, particularly since it was a Christmas treat for the 6th classes to reward all of their hard work. Of course, we took the theme of Christmas and each child chose to bring a different Christmas character to life in their Zoetrope. There were puppets, ice skaters, rag dolls, snowmen, elves, santa, reindeer, children playing with toys and children dressed in onesies.
The workshop, like all my favourite workshops involved a technical element and a large creative element. The technical element involved mathematics; we measured divided and cut slits into the black sheets of card that would later become the zoetrope cylinder. The children then spent most of the workshop time drawing their characters and colouring them in. They learned about illustrating a sense of movement in their characters. They pieced their cylinders together, secured a pencil to the bottom as a tool to rotate the cylinder, popped in their drawings and turned the zoetropes. Looking through the slits, they could see their drawings come to life. This was the science bit, oh and the construction of the zoetropes involved mechanical engineering too. The children were very proud and enamoured by their zoetrope devices and I think it was a nice way to welcome in Christmas.
Project Details
Location: Scoil Mhicil, Athy
From date: 2013-12-18
To date: 2013-12-18
Length: One school day, broken into two 2 hour and 30 minute workshops with the two sixth classes.
Participants per session: 30
Participants in total: 60
Contact hours: 5
Age range of participants:
12-14
County(ies):
Kildare
Related Organisation(s):
Kildare County Council
Project Posts