Ann Henderson's profile
Goings-On

Location: West Cork Arts Centre and Online - Co. Cork

Duration: 01/18/2014 to 05/01/2014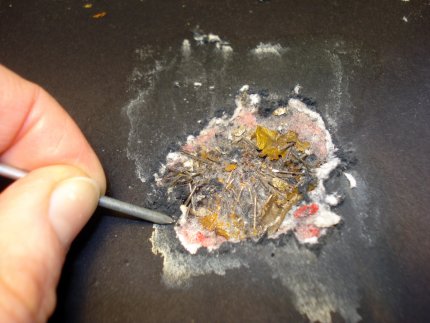 Project Outline
Ann Henderson is an artist whose practice is built upon relentless investigation into natural processes. She is presenting Goings-On, within the Practice touring exhibition, providing a window into an area of activity which took place in partnership with pupils and teachers from Ballydown Primary School.
Goings-On focuses upon her virtual practice, as it is within this, through the combined use of the web cam and the shared whiteboard facility, that she is able to bring small, and intimate, and slow studio investigations to the forefront.
As part of Goings-On, she will be continuing investigations within her studio on Rathlin Island. This will be conducted live through remote communications in each exhibition venue. Some of this time will be dedicated to different types of activity, some solo, some collaborative- as detailed below.
Studio investigations
Ann will work within her studio in real time with a view to video being projected live within the gallery (audio may, or may not, be transmitted depending upon the work in hand). Ann does not intend to personally interact with others during the time periods designated for studio investigations.
Ann will take sequences of still images during these periods. These will be projected in the venue while she is not on line.
Shared investigations.
Ann will work virtually (software to be confirmed) with any members of the public in the gallery space who are interested in participating within shared online investigations. This will be a direct extension of the studio investigations but will be collaborative in nature. Ann works in an opened way where she and other participants have opportunity to influence each other and inform the activity.
N.B. The sequence of images shown above are those also shown the various exhibition venues when Ann is not online.
Project Details
Location: West Cork Arts Centre and Online
From date: 01/18/2014
To date: 05/01/2014
County(ies):
Cork
Related Organisation(s):
Kids' Own
Funding Bodies:
Arts Council Touring
Project Posts