Niamh OConnor's profile
Balloons & Bananas

Location: Ballinameen National School - Co. Roscommon

Duration: 2013-10-01 to 2014-02-28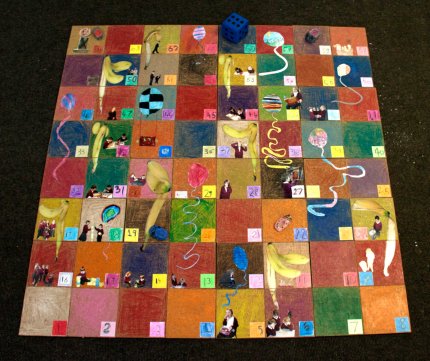 Project Outline
Ballloons & Bananas came about one rainy day at Ballinameen National School when everyone had to stay inside over breaktime. All the board games were taken out to play and with interest, I listened to the children negotiate rules and fairness and how to play together amid the excitement of fierce competition.
Having looked at early examples of Snakes and Ladders from India which were used to guide moral development we (myself, Ms. Ames their teacher and the classes of junior infants to 3rd class) decided to create our own version - Balloons and Bananas.
We came up with our own scenarios and photographed the consequences of certain actions which were then adhered to coloured cork tiles. The bananas and balloons were added and each player made their own counter - a papier mache version of their slipper which they wear in class. We hope to upload a video of the first play very soon.
Project Details
Location: Ballinameen National School
From date: 2013-10-01
To date: 2014-02-28
Length: 4 months (part time)
Participants per session: 19 + teacher
Participants in total: 19 + teacher and I
Contact hours: Intended to be 25 hrs. but we lost count
Age range of participants:
5-7
County(ies):
Roscommon
Funding Bodies:
Roscommon County Arts Office
Project Posts