Annabel Konig's profile
CRAFTed

Location: St. Patrick's national school, Ballymurphy. - Co. Carlow

Duration: 2020-02-18 to 2020-03-04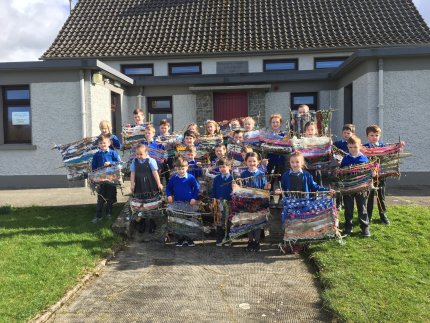 Project Outline
When discussing the possible project with the teacher of the classes I was going to work with, we discovered that nature, observation, fabrics and the environment, were the main topics that were going to make up the project idea. Based on those, 'weaving the walk', was born. The idea was that each child would go for a walk with an adult and look at their surroundings differently, looking at textures, picking up weavable materials, make drawings and if they could, write words, in a notebook which would be their form of reference for the weaving we were going to make.
Project Details
Location: St. Patrick's national school, Ballymurphy.
From date: 2020-02-18
To date: 2020-03-04
Length: 10 - contact hours and 6 prep hours
Participants per session: 28
Participants in total: 28
Contact hours: 10
Age range of participants:
3-5, 5-7
County(ies):
Carlow
Related Organisation(s):
CraftED, Wexford Educational Centre.
Funding Bodies:
CraftED Crafts Council of Ireland, Wexford Educational Centre.
Project Posts