Projects
Festival of World Cultures - Bookmaking Workshop

Location: Urban - Co. Dublin

Duration: 2009-08-30 to 2009-08-30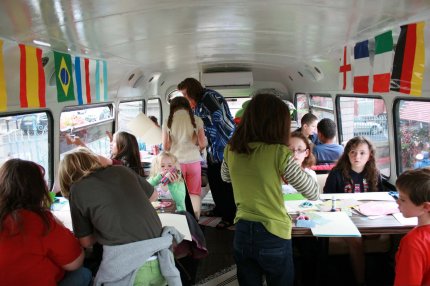 Project Outline
The Sunday of the Festival of World Cultures Kids Own organised two Bookmaking workshops for children of 6 and over. Mary Branley (writer) and I went up and facilitated the day.
The idea behind Kids making their own books is simple and attracts young illustrators and writers alike. Some prefer to concentrate on the story others like the images to do the talking for them.
The Images were compiled from colourful and patterned paper collage and detailed with pencil crayon and pens. The writing was guided by Mary and either written by the children themselves or with the help of Mary.
The results were above all a very enjoyable afternoon away from the hussle and bussle and a collection of lovely tales accompanied by colourful imagery.
Project Details
Location: Urban
From date: 2009-08-30
To date: 2009-08-30
Length: one day two 1.5 hour workshop
Participants per session: 25
Participants in total: 15
Contact hours: 1.5
Age range of participants:
12-14, 8-11, 5-7
County(ies):
Dublin
Related Organisation(s):
festival of world cultures, Kids Own
Funding Bodies:
minister of intergration
Other Related Artists:
mary Branley
Project Posts
Klava and the shoes that made music when she walked...

The hustle and bustle on the bus...