Fionnuala Aston Ardee lives and works at Killruddery House and Gardens. I ve asked Fionnuala a few questions about one of her responsibilities, the programming of children´s arts experiences.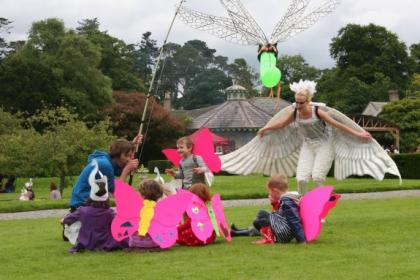 To start with, could you briefly describe your workspace?
I work in an open office that used to be our sitting room but which is connected to other offices that are in the ground floor of where we live and run our visitor attraction...my husband's ancient family home; Killruddery House and Gardens.
It is a large room. It's painted grey and white. It´s got an open fire. We have two arm chairs either side of the fire. We find these very useful for communication between ourselves and with people who work for us. My husband and I both have a desk near large windows and we have a great big pine desk at which we work with other people on various projects. We have one wall of shelves to store our books and bits and bobs and two grey filing cabinets to keep us organised. We both do a lot of work of course on our computers. I have a lovely chair with a cushion I covered in Donegal Tweed.
Which experiences does Killruddery offer to children?
The Gardens are actually 50acres of park land and a walled garden of 7 acres. Feedback says that kids enjoy the wide open space in which to run free, a space that feels like it is thought out and cared for. So many different types of Garden landscape to explore. We have a natural playscape also which takes the form of a giant sandpit surrounded by huge vertical logs which stand at different heights providing a challenge to any child who can walk, clamber or run from one to the other. There is a Tire Dragon in the middle. This space was create in 2012 and has been a major attraction to children this summer past.
We also hold a number of Events for Children. The Enchanted Garden celebrates creative play in the natural environment and is a chance for children to interact with various artists and art works in playful ways.
We also host storyhours for children, picnics, birthday parties, nature walks, and at Christmas we developed a gentle Santa, Mrs Claus and the elves experience for which we received great feedback. We tend to provide experiences for families that do not feel overly commercial, often have a quietly educational feel to them, trusting in exposure to horticulture, agriculture and creativity to leave their impressions worth keeping in the life's of children.
During Killruddery Film Festival we show a series of Family orientated films and have held a children's sound workshop.
You are creative director of Killruddery Arts. Can you give us a brief description of the history of Killruddery Arts?
I am Creative Director of Killruddery Arts and Killruddery Estate Enterprises Ltd. One company informs the other. Killruddery Arts was set up in 2008 as a way of enlivening the Culture at Killruddery. Its aim was to create a meeting point for artists and audiences to interact with Killruddery, inspired and hosted by the atmosphere of this old house and unique 17th Century Gardens in a meaningful way.
Which place does children´s arts take within Killruddery arts program?
Equal to adults. It is important to us that we create events that are often playful in nature. We like to create Multi-layered events where there is elements to engage and entertain people from 1 to 100. We prefer not to create events for children that fail to engage their adults.
Can you give a few examples of the children´s arts experiences you produced?
The Enchanted Garden, I referred to above is our major event in a calendar year. We also host for example, a music workshop that builds musical experiences through which they can enter the world of music making in a light, fun and genuine way. These are with Nico and Martin and are held on irregular bases. We have also held story telling/ puppet theatre performances for very young children. We have held little craft ecological workshops for children. Sometimes it's just tiny interventions like making Bees on stick out of paper during a Bee Keeping demonstration day at Killruddery. We commissions Culturestruction to make a permanent, Kids sized model of Killruddery House which entertains children while parents get important moments to relax and have some refreshments in the sun on a summers day in the Gardens.
Some little observation from some child's recent arts experience at Killruddery?
It often surprises me which elements of artist's performance actually capture children's imagination. Especially the very young. For example I remember a stage left out all day, which was to host the closing ceremony at the end of a weekend of The Enchanted Garden. It was the red carpet raised on a wooden platform that made a great noise when you ran that kept countless children entertained over a weekend. Wonderful animal puppets roamed the gardens that weekend, gorgeous wing making and kite making workshops. I noticed the Red path with the satisfying noise, not meant to be that important, held the attention of many children for longer!!
Which values motivate your choices in programming?
A clear respect for playfulness in someone's proposal will always catch my attention.
Genuine consideration for audience engagement. Genuine plans to create rich experiential experiences which clearly might enhance audience experience of this location or their moment in time. Non-commercial. Life enhancing or life-celebrating materials. Dignified approach to audience engagement; when an artist or facilitator has as much to gain as the audience they engage. Thoughtfulness in materials. Elegant clear design. By consciously deciding to show case playfulness and respect for life-enhancing activities we raise the stakes for contented living.
You studied painting at NCAD. How does your background as a visual artist feed into your present work?
At NCAD I became interested in how people's paths crossing constantly influence the choices individuals make. I became interested in the Artists Role in the Community. I saw and read about a lot of art being made and learnt to respect invention and individual creative paths. I had the opportunity to explore my own visual aesthetic and learnt how to convey a concept visually. This allows me to make confident decisions and contribute to group decisions usefully about the message we want to give while developing Killruddery as a visitor experience. I also spent a lot of time in the Media department so I am competent with photography. Documentation is always vital!
Is there any dream-project you have in mind for the future?
Weekly creative-ecological happenings for children. Which provides opportunity for young people to explore horticulture, wildlife, nature and agriculture in an experimental, curious, creative way.
Residence artists of various disciplines and artists workshops.
An extensive natural, built and grown, in-door play scape for children.
Amongst many more!
Thanks a lot Fionnuala!
Thank you Anna!