Berlin based artist Ulrike Kley, founder of "Amai Figurentheater", studied puppetry at the University of music and performing arts Stuttgart and trained in Butoh dance in Germany and Japan. She works as a puppeteer, performer and choreographer.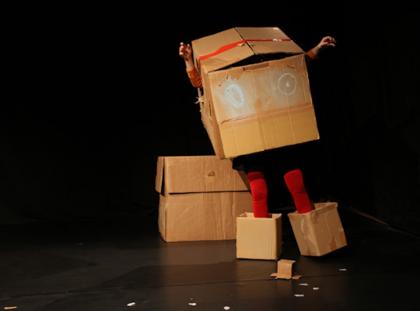 PAPPELAPAPP is the name of your show for children from two to four. The title is a nonsense word creation which implies the words "PAPPE" (= cardboard) and PAPPERLAPAPP (which could be translated with "gobbledygook "; "fiddlesticks"). Cardboard and nonsense- Is this descriptive to your show?
Yes, I did not intend that, but that's the way it is. There is no story, which is narrated. So everything I am doing on the stage is not put into a context, which supports a story. It is associative. It is up to the spectator whether he wants to see something senseful or just enjoy the moment.
In a first version we had an invented story, but this was not suitable with the cardboard boxes. So we decided just to deal with the boxes, and leave it somehow pure.
What was your relationship with cardboard boxes before you started working on PAPPELAPAPP ?
I had no special relationship with cardboard boxes. The idea came from a book with the title "this is not a box", very simple, but with wonderful drawings. The main character is a little rabbit, who plays with the cardboard boxes and invents many other things like house, cars and so on. So the natural way children play with boxes.
I just wanted to work with an object not prepared and find out what different meanings it can have, playfully, putting everyday objects as protagonist on stage.
And at that time we were moving from Stuttgart to Berlin, so there were a lot of cardboard boxes around me.
So far you created work for adult audiences. How and why did you set off to create work for children- and then for the very young?
Because I wanted to perform more. It is not so easy to perform adult performances. For children performances there is a bigger market. And I just wanted to try out a performance for children. This was my first intention. I also did not intend to make a performance for such small children. As I said there was a first version of Pappelapapp, which had story and so on, this was for children aged from 4.
But this failed and we made a totally new piece of it, just keeping the idea with the boxes. It just figured out that it is suitable for that age. They follow this imagery. I think children in that age they are concrete and abstract at the same time... if you know what I mean. They have the fantasy to see something completely different in an everyday object, like a cardboard box and believe in it. On the other hand you have to be very concrete in what you are doing, but it must not follow certain logic. That´s what I love so much about theatre, especially puppet theatre. And I found my audience....
Tell us a bit about the devising process and the people involved.
We worked it out only with improvisation. There was no novel, no story or anything else. At first we tried to combine it with other objects and puppets but that made the boxes look only as houses... they lost their own character. So we kicked everything else off and focused only on the boxes.
Another importent thing is the sound. That was working hand in hand with the musician. We said, we need something like that. Then he offered something, we tried it out and modified it. I worked with an experienced director and a musician.
What is your role in the performance, your attitude as a performer?
I do not have a special role. Of course I am important because I am animating everything, and sometimes use masks to transform. But I do not have a certain conflict with the cardboard boxes. In the first version there was such a story. I was a fairy, which landed on a planet with boxes, and the fairy has never seen boxes, so she was scared but at the end became friends with them. This was bullshit and did not work. Because nobody believed that I had never seen cardboard boxes. You have to deal with the circumstances, that everybody knows this object and so do I. I move a little bit strange, absurd in a way which supports the performance but I have no special role.
Could you name one each, one specific challenge and one specific benefit when performing for the very young?
A challenge is that as a performer you have to be very awake of the atmosphere the children audience. So every performance is new. And you have to believe 120% what you are doing... otherwise they do not believe you. You have to be awake every moment.
A benefit for me is looking in all that concentrated, totally open minded faces.
Finally, can you tell us a bit about the children and their responses to the show?
They love it. They have fun... they are curious about the things they happen, they like my character, the strangeness they like. After the performance I play with them and other cardboard boxes. They love that too.
Any further intentions to create for the very young?
Yes, I started to create performances for children from a very pragmatic point (play more, earn more money) but I figured out that it is "mein Ding"- my thing.... The next piece I want to work on is with paper about myths of creation.
Thanks Ulrike for taking the time to answer these questions.
For a Pappelapapp trailer, look up Ulrikes homepage: www.amai-figurentheater.de.