How did TIC TEAC TIC TEAC came to be? The show is a PUCA PUPPETS production. I interviewed Niamh Lawlor from PUCA about the devising process.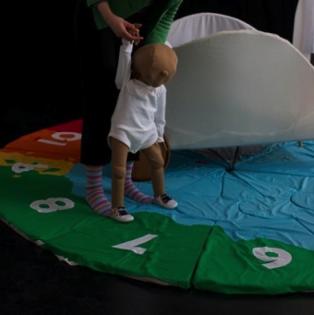 Hi Niamh. I'm interested how devised shows develop. When you first started working on TIC TEAC TIC TEAC, what was your ambition?
It is hard to think back but my primary ambition was very simply to make something for my daughter's age group. I also wanted to make something to mark and celebrate the extraordinary process I had witnessed through her - how a human being goes from a seed and an egg to an independently thinking and (almost) functioning person in such a short time. When she was really tiny people were always saying to me "enjoy it, it doesn't last long" and this always puzzled me until I realised that it was true: they grow so fast, they are almost in a constant state of flux and although time seems to move slower when you are in the presence of a young child, as if you are influenced by their very different perception of time, in fact they develop very quickly and you are so busy and absorbed in the process of mothering an infant it does seem over in a flash and seems a blur on reflection back. I wanted to capture it somehow and admire it: mark it. I also wanted to make a show that would be simple and a pleasure to perform.
Did it change throughout the process?
It developed certainly. I came to a slow realisation of what I wanted from it. When I started to wonder how I would tell it this influenced the work also. But the essential very simple ambition is still there.
In which ways did you involve children into the devising process?
Very early in the process I was invited to do some workshops in Rutland Street Preschool, a preschool I have worked in several times before and whose staff and ethos I admire very much. I asked them if it would be ok if I worked on the theme of growing and used it as part of my research for my new show. I was curious about children's own perceptions of their own growing, and curious to see if it was a subject that interested them. I designed a series of workshops to explore ideas around this and which would also fulfil the preschool's objectives for the workshops. These are detailed in practice.ie. It included my bringing a baby puppet who later 'grew' into a toddler, 'wobbler' and went to school, and included the children also making baby puppets and 'growing' them. I enjoyed the process very much and although I concluded that unless a child had a younger brother or sister whose growth they were witnessing, they hadn't a very conscious awareness of the process, being so immersed in it themselves, except in terms of the next achievement they were looking forward to. Though it is possible they had but were not able or interested in expressing this. However they were very interested, like all humans, in talking about themselves and reflecting on themselves, so it seemed certainly useful to offer them a chance to do this. These workshops offered me an opportunity to begin some making and performing around the theme though which proved the foundation to the final piece, developed by the children's' responses and by what they chose to do with their own puppets.
Later, when the show was beginning to take shape I brought it to Daisy Day's crèche in east Wall where my daughter was, and tested it, including the workshop framing devices of assembling the floor mat and responding through drawing.
Later during rehearsals I brought it to the primary school which my daughter was by then attending and tested it on the junior infant and first classes to assess the age range and responses. As it is a gael scoil - Scoil Lorcáin, it also allowed me to check the language was suitable for this age. I was able to talk informally to parents and children afterwards, and the teachers were also very helpful and detailed in their responses.
At the end of the process I brought the finished show back to Rutland Street and to the primary school.
My daughter also, having inspired the piece was a big influence throughout. As you can see she grew with the puppets, and had almost out grown it by the time it was made. She also identified very closely with the process and during the test performance scolded a boy who was being irreverent about one of the puppets that he should be nicer to her "sister"!
Can you describe which experiences this show offers its audiences?
I tell them "it is a story for you, about you" and gives them and their parents a chance to reflect on their early development and the extraordinary things achieved in that time. As a bi-product it also celebrates the nurturing of this, as the puppeteer literally and metaphorically supports the growing child-puppet through the different stages, so parents also get a lot out of the show and often tell me that it moved them. I describe it as a celebration of growth and have it designed as a kind of mini-ritual, at the beginning we assemble a clock-calendar together to introduce the idea of passing time, and at the end I invite them to make a drawing to show us a little of whom they are today. We begin and end by holding hands in a circle, like a ring-a-rosies and sing the refrain of the piece (as I wanted it to be also a kind of song) "Tic teac Tic teac Tic teac Tic, bhí tú beag is anois tá tú mór, Tic teac Tic teac Tic teac Tic, you were small and now you're big".
Do you feel children's journeys of growth and development are celebrated enough?
Maybe not... though there is increasing awareness of their importance I am glad to say, and more and more good work noting and celebrating children's' world.
Thank you!!
Thanks for asking x