As part of her Guest Editorship with particular Early Years focus, Órla Kelly interviewed Emelie Fitzgiboon, Founder and Artistic Director of Graffiti Educational Theatre Company.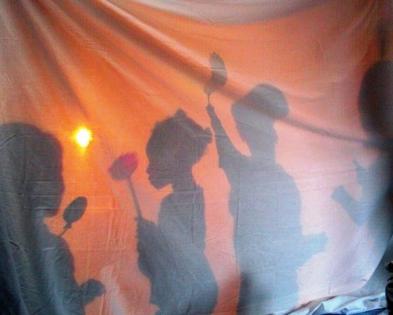 Órla Kelly: What is your role in Graffiti?
Emelie Fitzgibbon: I'm the founder and Artistic Director (I also bear the lofy title of CEO but I don't use that one very often!!!) Graffiti was founded in 1984.
Órla Kelly: What is your experience of developing arts programmes for early years throughout Graffiti's lifetime? Is there a greater role, demand and /or support for early years activities now than when your journey with early years arts began?
Emelie Fitzgibbon: The experience has been complicated and sporadic. Curiously, one of our first educational theatre programmes was for kindergartens and creches. In 1998 we returned to an early-learning programme, Jackie's Day, which is still going strong. Jackie is an interactive piece using child-size puppets and plays to kindergartens - and in its last incarnation experimentally slid down to twos. I had also been for many years a fan of the work of Unga Klara in Sweden and of their Diector Suzanne Osten. When she made her film Babydrama it re-ignited a spark and a determination that if the company went into this area of work only the best and the most beautiful productions would be appropriate. Then at an ASSITEJ World Congress in Adelaide I came across the honouring of the work of Roberto and Valeria Frabetti and immediately started to learn Italian!! I also started to work with our Associate Director, Síle Ní Bhroin on the early stages of creating a performance. In the meantime, Cork was very fortunate in having two great publications by Clíodhna Noonan on the possible development of EYA in the city and we were approached to consider a research project on the feasibility of an Early Years Arts team. The BEAG team began in 2010 and Blátha Bána/White Blossoms was produced in 2012 after a three year development period.

Órla Kelly: What has been the most thrilling early years arts experience that you have witnessed either by Graffiti or another company?
Emelie Fitzgibbon: The wonder, concentration, focus and concentration of small children never ceases to thrill me. I have also loved watching some of the work of Theatre de la Guimbarde, La Baracca, Teater Reflexion. For me, what is most special is a particular aesthetic and I feel that I respond with more enjoyment to that than to productions with different aesthetics. I'm always analysing and, even if I don't like a piece, I try to analyse why, what the audience is responding to that perhaps leaves me cold. I think I respond best to a calm, quiet and almost etherial aesthetic.
(Perhaps it's a culural construct because different countries seem to favour very different styles.)
Roberto Frabetti talks about 'eyes and silences' in finding the response of a very young audience. I love those silences, the wide eyes and the performers who can make that silence happen.
Órla Kelly: Is there an early years aesthetic or should we instead consider quality experiences, appropriately framed with a focus on joy, beauty and wonder? (Perhaps this question is like asking if you like fruit or apples.)
Emelie Fitzgibbon: I think I've covered quite a bit of that above. I think that the focus on joy, beauty and wonder in itself can create an aesthetic if the art is of high quality in itself. Moving from performance to the interactive and participatory practice of the BEAG team where focus of its nature is more disparate, I think we would all say that there is a very definite aesthetic in BEAG in the self-presentation of the artists, in the materials they choose, in their openness and respect. One of our early childhood educators has said, 'BEAG has taught me to see the wonder of everyday objects.' Wonder from both children and artists is, I think at the core of the aesthetic.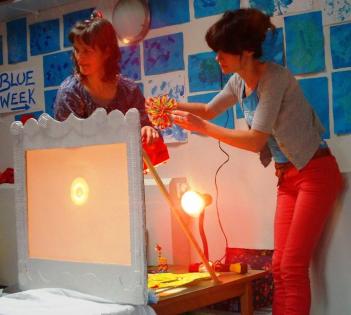 Órla Kelly: What have been the most challenging items to overcome when engaging with early years arts? (You mentioned health and safety zealousness which seemed over cautious, is this still a factor?)
Emelie Fitzgibbon: I think THE most difficult thing to cope with in relation to the BEAG team is the instability and lack of continuity of funding. I think it makes it difficult for the project to sustain momentum and to develop practice in both artists and educators.
Money is also a big factor in developing and presenting high-quality theatre for what HAS to be a tiny audience. There still lurks in the public - and official - consciousness the notion that artistic experiences for children must cost less than those for adults. Not so.
The production of Blátha Bána, for example, is very expensive and five staff are needed to run it. I get really furious at patronising adults - who probably have never seen quality work for very young children - making assumptions about 'appropriate' financial expenditure.
Yes, I think the Health and Safety 'cops in the head' are very detrimental to the exploratory and playful nature of children's exploration - this is in general and not just in artistic experiences . Didn't Einstein say that play is the highest form of research? I can, of course, understand the need for a safe and careful environment and we, of course, observe all child safety and H and S standards. If objects and activities are terribly restricted - we heard recently of an objection to a sealed shaker in a musical activity because it MIGHT fall open, it contained seeds which MIGHT fly out and a child MIGHT be allergic to them! - then the child's exploration of its surrounding world is narrowed and full sensory play denied.
One can't blame carers for this, there is a real sense of fear of consequences if a child sneezes!
Órla Kelly: When you consider early years arts events and programmes do you consider that you have two audiences in one?
Emelie Fitzgibbon: Yes, although that said, we always ask the artists to focus on the children during the activities and allow the adults to experience the work through the child. Again, I would cite the influence of La Baracca who insist that the child needs to experience the event for themselves and not as mediated by the commentary or questioning of the adult. The child is also free to leave the activity and there is no insistence on attention. At performances the child will sit on the adults knees or near the carer but we specifically talk to the adults about their reponsibilities and privileges of watching something very special with your child. Also, in my experience, adults inexperienced in the field come in to an early years performance with a strong sense of 'this will never work' and leave having re-found their own sense of wonderment!
Órla Kelly: The Beag programme was a remarkable programme with a really great report worth reading for those who haven't already (http://graffiti.ie/wp-content/uploads/2011/07/BEAG-Pilot-Report.pdf) If there was one element to this programme that was to trump all others (within the programme) what would you say it was?
Emelie Fitzgibbon: I think a unique factor in the BEAG experience is the Integrated Arts Team. It allows for three art forms (at the moment) to flow through and over one another, I think in much of the same way that a child can experience them. The three artists, after our initial training about body awareness and looking at the world from the floor, began to find out more and more about one another's discrete areas of work and, in a developing process, seemed to find a shared language which allowed one art to merge into the other. This was particularly observed by one educator who said that she found it very successful because different children reacted to different elements on any one day and this created a very rich and satisfying atmosphere for creative exploration.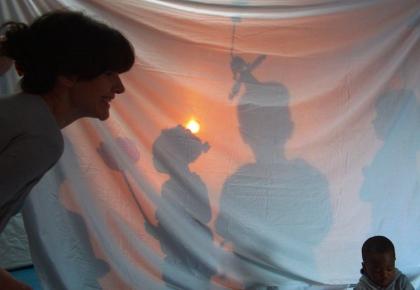 Órla Kelly: You and I have spoken about quality and the Irish aesthetic in early years arts previously and agreed that early years arts in Ireland are doing pretty well when compared. If you were granted three wishes to make early years arts more than they are today in Ireland what would they be?
Emelie Fitzgibbon:

1. That artists are given time and space to develop thoughtful practice;
2. That the different agencies involved develop a COHERENT approach to funding so that:
• measured, sustainable, and aesthetically satisfying work can be achieved by the artists;
• early childcare educators can find their own creativity through and developed from both the help and encouragement of the artists and the responses of the children;
• most of all, that children of all backgrounds have opportunities to experience the joy of creative experiences and all the life-affirming aspects they bring.
3. That ALL parents in this society know that they and the children have rights to engage in arts and culture.