I am delighted to be beginning the process as guest editor for practice.ie, and to have the opportunity to focus on an area of passion for me, contemporary art practice and children. I am always reflecting on, testing (and sometimes failing), exploring and reconsidering, how I can best mediate, facilitate, curate and provide children with rich and high quality experiences of contemporary art and artists. Experiences that don't patronise and don't assume that we (the curator/expert/artist) know all the answers. What I love most about working with children is that they quite often see things that I or the artist haven't seen or considered and it gives the work or process a whole new meaning. I also love working with artists (those who are and sometimes aren't interested in children), developing projects, artworks and interventions together, considering a question, a proposition, a material or a theme, and bringing children into that experimental and sometimes liminal space.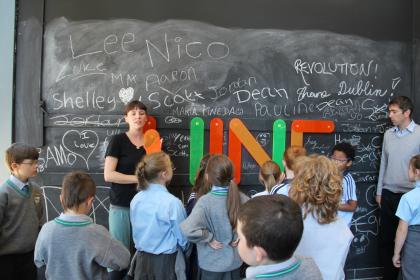 Image shown: Art and Philosophy Project with Aislinn O'Donnell and NINE exhibition at the LAB, Dublin City Council's Arts Office
The guest editorship, I hope, will afford me the time to discuss with artists and colleagues from other disciplines some of the work that we have been developing in the field, allowing for a moment of reflection and conversation. This will include:
*Discussing with visual artist Rhona Byrne an ongoing body of work and research around her participatory sculpture that I first curated in 2012, titled Bolthole: http://www.rhonabyrne.com/35060/320532/works-and-projects/bolthole.
*Reflecting on an ongoing collaborative project with Dr Aislinn O'Donnell titled Art and Philosophy in the Classroom, which tests and develops innovative methodologies for working with children in primary school to look at and discuss / respond to contemporary artworks.
*I will also look at Helium Arts Cloudlands project, which places an artist in residence in hospitals to work with chronically ill teenagers, and will be interviewing artist Rachel Tynan who is based in Temple Street about this work and her practice http://www.helium.ie/programmes/artist-in-residence/cloudlands/.
*During my time as Children's Programme Co-ordinator at IMMA I curated two exhibitions for families, and would like to explore some ideas around curating contemporary art for children, and the different approaches to this work, including the Virtually There exhibition and other one off participatory events that I curated at Tate Britain.
*Outside of this, I have recently been in dialogue with Portuguese artist Priscila Fernandes (who is currently in residence at IMMA), Irish artist and curator Jennie Guy, and Irish artist and primary school teacher Anne Beattie, and would like to take the opportunity of the editorship to ask them about pedagogy and their practices.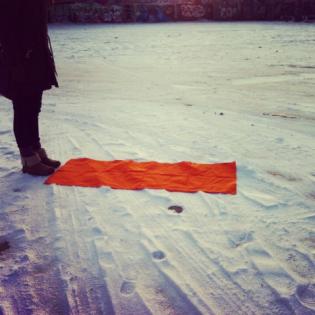 Image shown: Bolthole project with Rhona Byrne, Berlin
I think it's an exciting time in Ireland for these practices, and I hope that over the coming years they will continue to develop.