Kate Wilson's profile
'River Doodle', Artist in Schools, Leitrim Village NS

Location: Leitrim Village - Co. Leitrim

Duration: 2012-10-10 to 2012-12-10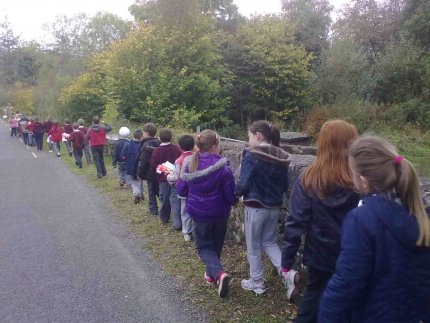 Project Outline
This is a 50 hour project funded by Leitrim County Council as part of the 2012 Artist in Schools Scheme. There were five artists selected to work in five different national schools throughout the county, each school receiving 50 hours of contact time.
I was working with 2nd class in St Joseph's NS in Leitrim Village. I found St Joseph's to be a great school with good positive energy and a buzz about it.
There are 32 kids in 2nd class so it's quite a tight fit in the class room. I decided it would be good to work outdoors as much as possible so we began what became weekly outings to the river, just 10 minutes walk away.
All the work in the project grew out of looking at, talking about, writing about, and drawing what we found down at the river shore.
Some of the work is currently forming part of an exhibition at the Dock, Carrick on Shannon.
Project Details
Location: Leitrim Village
From date: 2012-10-10
To date: 2012-12-10
Length: 12 weeks
Participants per session: 32
Participants in total: 32
Contact hours: 50
Age range of participants:
8-11
County(ies):
Leitrim
Related Organisation(s):
Leitrim Arts Office
Funding Bodies:
Leitrim County Council, Arts Council of Ireland
Project Posts