Projects
The Virgin Mary`s Bank : Fun with Glass programme

Location: Rural - Co. Cork

Duration: 2009-04-16 to 2009-05-28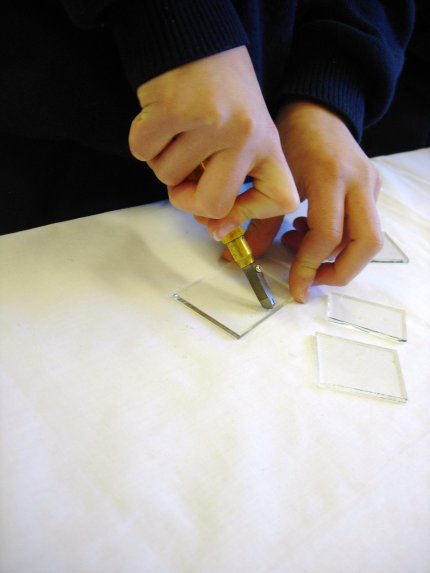 Project Outline
`The Virgin Mary`s Bank` was a visual arts project based in a large West Cork boys school: Scoil na mBuachailli, facilitated by artist Marie Brett and craftsperson Gana Roberts.
The project was part of The Fun with Glass programme, a teacher/artist partnership, initiated by artist Marie Brett and supported by West Cork Education Centre and Cork County Council.
Over a period of 5 days, 32 boys experienced using glass and metal to create fused glass artworks, both individual and collaborative pieces, exploring the theme of a local historical site, The Virgin Mary Bank.
The project was process led and involved a sketching visit to the water-side site and a teacher training aspect.
Project Details
Location: Rural
From date: 2009-04-16
To date: 2009-05-28
Length: 6 days
Participants per session: 32
Participants in total: ranging between 6 to 32
Contact hours: 30hrs
Age range of participants:
8-11
County(ies):
Cork
Related Organisation(s):
West Cork Education Centre, Cork County Council Arts office
Funding Bodies:
Cork County Council, Cork County Council, Scoil na mBuachailli, Clonakilty, Co Cork
Other Related Artists:
Gana Roberts
Project Posts