Projects
60/40 Playmaking Project

Location: Tallaght, Dublin - Co. Dublin

Duration: 2011-09-19 to 2012-04-30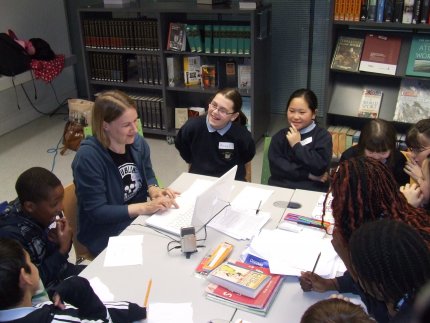 Project Outline
The 60/40 Projects - Making Plays With & For Primary School Children
The 60/40* Primary Playmaking Programme is an initiative that came about as part of a theatre artist residency with the Civic Theatre, Tallaght and South Dublin County Libraries (September 2011 – August 2012). It is a highly experiential process with the aim of creating new plays for and by children in collaboration with a playwright.
*(Early on in the programme I reckoned the collaborative percentages were in the children's favour - hence the title!)
The pilot programme took place during Autumn term 2011 with third class children from Saint Thomas's Junior National School, Jobstown and Saint Dominic's JNS, Tallaght. The second programme took place in Spring 2012 with 4th class children from Saint Anne's JNS, Fettercairn and Saint Martin De Porres JNS, Aylesbury.
The process, based on my own working method, starts with a question, which becomes the seed of each play's story. The workshop sessions then focus on a different part of the playmaking process such as narrative, character and dialogue and are organised so that the children can use different creative methods to explore their ideas (in Tallaght we wrote things down, discussed and "brainstormed" things, we also drew things such as locations and characters).
The material which the groups I worked with in Tallaght came up with was fantastically imaginative and wonderfully non-linear in many instances. I gradually organised and structured the children's ideas and finally wrote them up into the finished scripts.
The outcome for each group is their own co-authored playscript, which their teachers can then continue to work with, with them in the classroom. The two programmes in Tallaght culminated in readings of the finished scripts at the Civic Theatre, at which the different schools got to read their plays to each other.
The plays created on the programme have been printed by South County Dublin Libraries as a resource for primary drama teachers under the title Deadly Drama: 8 New Plays From D24. There is also a downloadable version at Deadly_Drama_From_D24
'I thought it was going to be drama, but I was happy they made a play, because I wouldn't do something like that with them myself and there was product and process.'
Noreen Shanahan, class teacher, St. Dominic's JNS, Tallaght.
'I loved it. I thoroughly enjoyed it... It caters for all children. They don't have to be the most academic... It gave them confidence because their ideas are included.'
Norah Niland, class teacher, St. Anne's JNS, Fettercairn, Tallaght
Project Details
Location: Tallaght, Dublin
From date: 2011-09-19
To date: 2012-04-30
Length: 8 sessions per school per programme. The first programme ran during the Autumn term 2011 and the second took place in the Spring 2012.
Participants per session: Between 14 and 16
Participants in total: Around 60 children (2 classes divided into 2 groups each) plus 4 class teachers and a number of SNAs and classroom assistants
Contact hours: 9 hours in total for each group. Each class came on alternate weeks with both classes (from two different schools) coming together for the final sessi
Age range of participants:
8-11
County(ies):
Dublin
Funding Bodies:
The Arts Council, The Civic Theatre, South County Dublin Libraries
Project Posts