Kate Wilson's profile
Being & Belonging

Location: Belleek - Co. Fermanagh

Duration: 2012-10-17 to 2012-11-28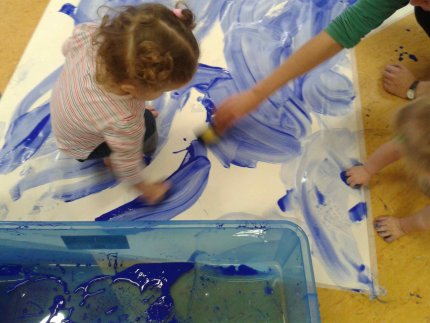 Project Outline
This residency with Belleek Parent and Toddler Group, in Fermanagh is taking place over seven weeks with one contact day with the group per week. I will be exploring the use of a wide range of media in interactive art workshops for parents and toddlers with a focus on developing confidence in sensory exploration. The evolving systems and patterns for the sessions will include exploring the use of dramatised story telling, movement and sound exploration as well as large scale interactive surfaces for exploring the use of dry and wet art materials. I will look at developing a good balance between individual exploratory play and group play, as well as a balance between discovering skills through individual explorations and learning skills through modeling parents and peers.
Project Details
Location: Belleek
From date: 2012-10-17
To date: 2012-11-28
Length: 7 weeks
Participants per session: 10
Participants in total: 20
Contact hours: 11 hours
Age range of participants:
Infants and parents 0-3
County(ies):
Fermanagh
Other Related Artists:
Naomi Draper, Helen Sharp
Project Posts
Stepping Stones preschool in Belleek has a vibrant parent and toddler group...